About Us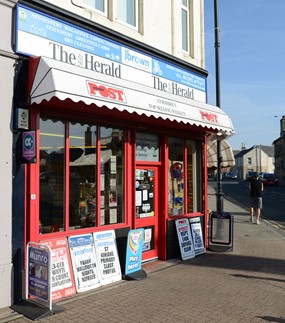 Our shop has provided the community as a newsagent for more than 100 years.
We aim to provide a first class, reliable and courteous service to all our customers and welcome any feedback to further improve our service.
Inside our store you will find a selection of newspapers, magazines, books, confectionery, tobacco products, stationery, greetings cards, photocopying, mobile top-ups and many other products and services.
If there is a particular magazine you would like and we don't stock it - please just ask us to order it in for you. This can be a one-off or a permanant order. Many customers moving to Prestwick wish to keep in touch with their former hometown and place an order for their local weekly newspaper, eg Oban Times or Stornoway Gazette.
We offer a professional and reliable dry cleaning and laundry service at competitive prices. Collected and delivered back to our shop twice a week. Please enquire within our store or click here to view their price list.
We provide a reliable Home News Delivery Service within Prestwick town. You can order newspapers and magazines for delivery 7 days a week or only on the weekend if you prefer. Just imagine having your paper deivered in time for you to enjoy with your morning cup of coffee without even leaving the house in bad weather. Your newspaper bill can be paid securely online, by telephone or in person. We have a dedicated team of drivers delivering to our customers every day come rain or shine.